The Cigar City CrossFit Games
Athletes.
Get Ready.
The Cigar City CrossFit Games are upon us.

Overview
This is the inaugural year of the Games and will run from July 31st - Aug 5th. The winning man and woman will be crowned the 2017 Fittest Athletes at Cigar City CrossFit. There will be a total of seven events that will challenge you on every aspect within the fitness continuum. Every athlete is encouraged to participate. Workouts will have scaling options, however the workouts are designed to be inclusive in nature. The cost of the event is hard ass work. Cancel your travel plans, we've got a fitness mountain to climb.
Why
For 99.9% of us, we're training to live long and prosper. We use exercise as a tool to relieve stress, be a buffer against chronic disease, look better naked and keep us functional in our every day lives. But, these are generally long term goals and it can be difficult at times to enjoy training day in and day out without scoring small wins along the way. Competing is fun and it's a great way to channel our motivation and give us a short term, tangible goal to strive towards.
Also, for many of us, we want to be better overall. We want balanced fitness. We want to be both strong and fast, explosive and enduring. To that aim, we've created seven tests which challenge all the body's energy systems as well as it's absolute and explosive strength. The tests are inclusive in nature - the goal being to have as many people participate without scaling. By doing this, we can have a true gauge of work capacity and strength. The competition will serve as a great litmus test to your overall fitness level and will help you prioritize your training in the coming year.
How
Similar to The CrossFit Open, we'll have regular classes throughout the day, but we'll combine our 6:00pm and 7:00pm classes to create a Friday Night Lights feel. We'll run heats to mitigate any space or equipment issues and this will give us the opportunity to watch and cheer on our fellow athletes.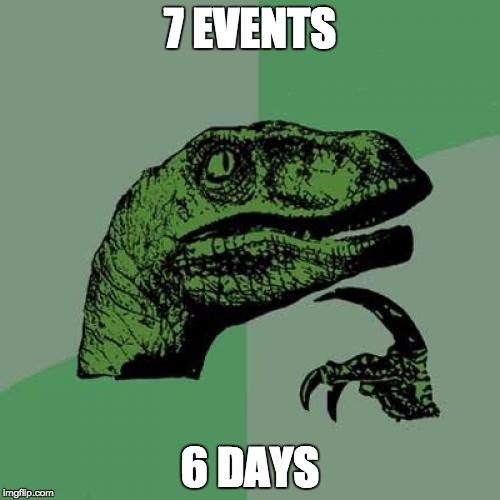 There are a total of seven tests, but only six days. We will be completing multiple events within the same day / class session. We'll have make up days scheduled within the week as well. We want everyone to be able to participate.
What
The events are as follows:
Day 1 - Monday, Jul 31st
Aerobic Medium Test - Reps / 25m = 1 rep

30min Amrap

10x Pull-Ups

Run 200m

12x Thrusters 75/55

Run 200m

14x Burpees over the bar

Run 200m
Day 2 - Tuesday, Aug 1st
Explosive Power Test - Weight

1RM Clean and Jerk

Anaerobic Alactic Test - Calories

30sec Max Effort Assault Bike
Day 3 - Wednesday, Aug 2nd
Anaerobic Lactic Test - Time

Run 200m
20x Snatches 95/65
Run 200m

*15 min rest between events*

Aerobic Short Test - Reps

15min AMRAP
10x Wall Balls
20x Russian KB Swings 53/35
30x DU
Day 4 - Thursday, Aug 3rd

Absolute Strength - Weight

1RM Back Squat
*Make up day opportunity - complete any missed event from earlier in the week*
Day 5 - Friday, Aug 4th

Aerobic Long Test - Reps / Every 25m = 1 rep

60min Amrap

Row 1000m

Run 400m
Day 6 - Saturday, Aug 5th
Make Up Day
Scoring
We'll determine the winners by summing up all of their event finishes. The athlete with the lowest total will win.
Ask a coach if you have any questions or concerns. We'll let you all know if some form of registration is required as we get closer to the date. As of now, just block off your calendar to be here!